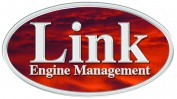 Bad Obsession Motorsport are delighted to announce that they've been appointed as dealers for the fantastic range of Link ECU's. These New Zealand made ECU's are possibly the most advanced on the market today and are backed by a lifetime warranty.
Link have come on board to support the second series from the boys at Bad Obsession and are supplying a G4+ Storm ECU to control the engine management functions of the Toyota 1KR-FE engine.
The range topping G4+ Xtreme ECU is one of the most advanced wire in ECU's on the planet with a feature list so extensive it's almost impossible to believe. Their free PCLink software makes tuning any of the ECU's intuitive and fast.
Regular free firmware updates for the entire range ensure that you've always got the latest features and software advancements.
All systems are designed on a basis of excellence, assembled with medical precision delivering a rock solid, repeatable engine performance. Careful thought has been given to ease of installation and tuning so that optimum results can be attained in a minimum of time.
Bad Obsession Motorsport are proud to be associated with one of the market leading ECU companies and look forward to being able to assist our customers to attain their goals with the most advanced products.