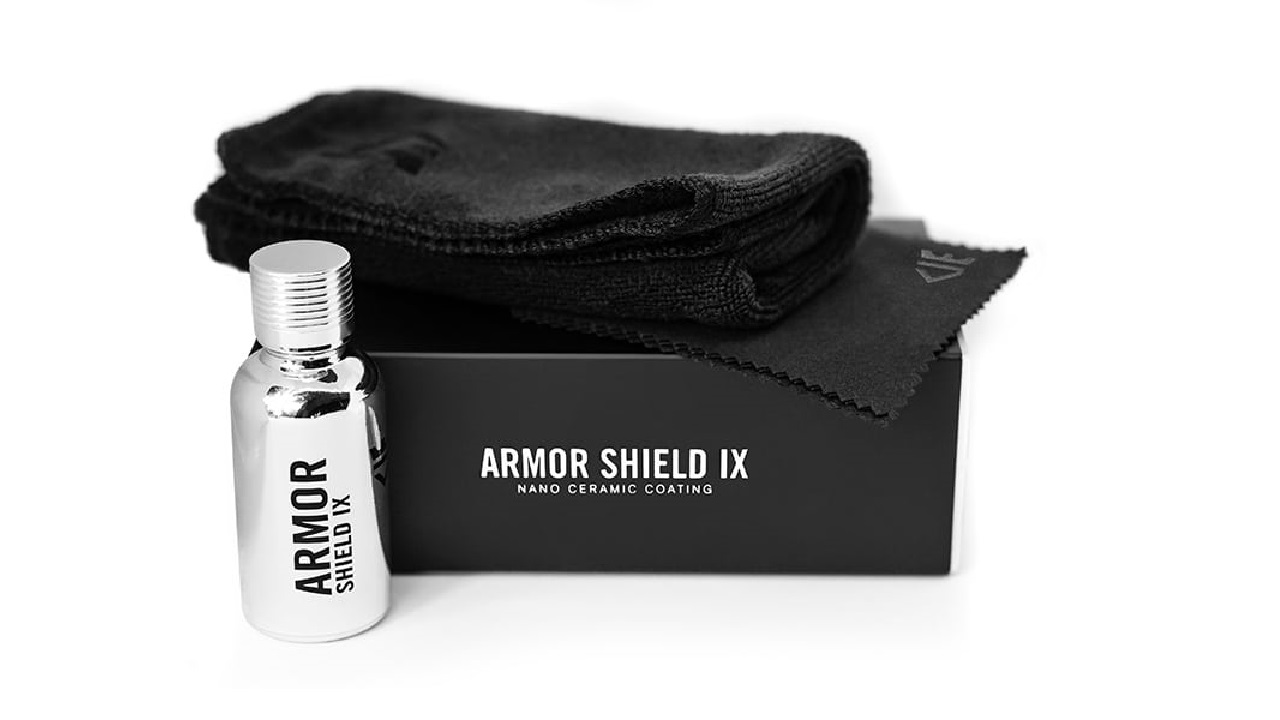 A few weeks ago, we were contacted by a representative from AvalonKing; a company selling a DIY liquid nano-coating for your car called Armor Shield IX. They offered to send us a sample FOC to see if we liked it. We've got one or two cars in the stable that could do with a bloody good clean, so we agreed to try it. With the order on its way from the US, I got regular emails with tracking updates and handy hints and tips on how to get the best from the product. All very good so far.
Now, I'm not that precious about my cars, never have been in all honesty; they're a tool to do a job but having said that, the Impreza looked like it needed some love so that's the car I chose to try this stuff out on. We've had the Subaru for about eighteen months now and while it's been washed a few times the paintwork has seen better days so to do a good job on it, I needed to get busy.
The UK has recently been in the grip of a rather unusual heatwave; people are living in the freezer aisles at Tesco and we've all forgotten what coats are. So, to pick this time to do some pretty serious manual work outside seemed unwise at best. First off, the car was washed thoroughly with snow foam and a pressure washer.
Some people like to use the two-bucket method, I now prefer the one Karcher method. This was the easiest bit if I'm honest.
Next up I treated the Scoob to a clay bar kit. Now I have clayed a car before, a BMW Z4 which looking back was considerably easier given that it had two fewer doors and one fewer roof than the WRX. But, in for a penny in for a pound, I may as well do the job properly. The clay did the trick brilliantly and the paintwork was beginning to look fairly reasonable. The car is twelve years old now and has all of the usual defects; stone chips, some fairly deep scratches in places, it's by no means perfect but I figured a lot of people who might be attracted to the idea of nano-coating their vehicle would be in a similar boat. (You can nano-coat boats too I'm sure.)
The penultimate process before the Armor Shield goes on is the polish. I chose Meguiars Ultimate Compound as many of today's "polish" products are actually an all in one treatment with wax included and given that a layer of wax on the paint before applying the nano-coating is a significant no-no, the Meguiars which contains no wax seemed like a good bet.
It's at this point I decided that owning a dual-action sander would have been a massive boon. The polish was bloody hard work by hand and honestly, I could have probably done a better job than I did, but my right arm was hanging on by just the tendons and the heat was stifling. Still, the result was good, even if the lactic acidosis threatened my short-term health. Before the nano-coating goes on, a quick wipe over with some rubbing alcohol removed any last contaminants.
In the Armor Shield kit, you get a small 30ml bottle of magic liquid, a rectangular application sponge, a few small microfibre cloths, a pair of gloves and a microfibre buffing towel. Application is easy apparently. And in fairness, it was. Wrap the small white cloth around the sponge, dab on three or four drops of Armor Shield and wipe on to a panel at a time using horizontal and vertical passes topping up the sponge with product as you go. As soon as each panel is done, buff it off immediately before moving onto the next panel. Within ninety minutes I was done, and the result was fantastic. It's hard to get a 'wet-look' on metallic silver, but the Armor Shield brought a gloss and a depth that I'd never seen before. The finish was even over the car and the strong sun beamed off all the surfaces.
It was a week later that it finally rained, and the hydrophobic properties of the coating became apparent. Water beaded off the paintwork as fast as it was falling from the sky. I dried it off quickly with a microfibre towel and the gloss shine reappeared instantly. I've done about 300 miles in the car since the coating went on; down motorways, B roads and dusty farms and a quick wash off with the Karcher and a dry is all it needs to return to full shininess.
Armor Shield IX is meant to protect against light scratches, bird droppings, tar and contaminants; it forms a sacrificial layer over the paintwork that's meant to last upwards of 3 years. I can't comment on its longevity yet, but the early impressions are very favourable. If it means I don't have to polish and wax the car every few months and still retain the look I've currently got, then it's well worth the money and the work put in to getting it there. If you look after your paintwork better than I do and don't have to go to all the trouble I did, then it really is easy. If like me, you need to put in the graft, then the result is still worth it. Click on this link to find out more: Armor Shield IX
And enter our Facebook and Twitter competition to win a kit for yourself!